Made entirely from certified biodegradable materials, this fully compostable paper cold cup is a viable replacement for traditional paper and foam cold cups. Custom branding is also available so foodservice retailers can promote sustainable business practices, one cup at a time.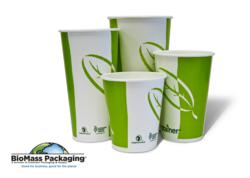 Richmond, CA. : BioMass Packaging®, a division of Excellent Packaging, innovator and wholesale distributor of sustainable, biodegradable, and nature-based packaging for foodservice and other applications, has broadened its range of bio-friendly alternatives to foodservice staples with the addition of new paper cold cups manufactured from renewably sourced paper fibers. The new cups look and perform just like regular paper cold cups, but are completely sustainable because they are entirely sourced from renewable resources.
"Until now, there has been no sustainably sourced alternative to the Ingeo-based clear cold cup — which is fine, but some foodservice retailers prefer to offer paper-based cups," said Allen King, president of California-based Excellent Packaging, the North American distributor of the new paper cold cups. "We'd like to see more foodservice retailers and any business that currently offers paper cups make the switch to these Earth-friendly paper cold cups. It makes good business sense, since its helps their customers avoid using cups that contain petroleum-based plastic."
Eschewing the polyethylene that is normally used to line paper cups, these new PLA-lined cold cups use a plant-based Ingeo™ lining to provide leak-proof performance. When used in conjunction with an Ingeo-based lid and straw, any soft drink vendor can now offer its customers a fully compostable serving solution that enables diversion of cold cups from the landfill — where billions of paper and foam cups end up every year.
To jump-start sales of the new cold cup, BioMass Packaging is offering a ten percent discount on all orders placed before the end of May 2012. Custom printing is also available. "We hope these cups put the nail in the coffin of polystyrene foam cups," added King.
BioMass Packaging compostable cold cup performance is identical that of traditional paper cold cups
    Available in 12-, 16-, 22-, and 32-ounce capacities.

    Made exclusively from renewable resources, using paper fiber from responsibly managed forests

    Lined with plant-based Ingeo™ that requires less energy to create than the polyethylene used in traditional paper cups, and ensures the cups can handle liquids without deforming

    Available with lids and straws also made from Ingeo

    100% compostable —biodegrades in commercial compost facilities

    Compatible with municipal curbside yard waste collection programs

    Certified by BPI and meet the ASTM (D-6400) standard for compostability
Presentation and availability
The new ecotainer® cold cups are available for immediate delivery directly from BioMass Packaging, or from the company's BiomassPackagingStore.com online store.
About BioMass Packaging
BioMass Packaging (http://www.biomasspackaging.com) specializes in offering sustainable packaging solutions for foodservice operators that want to reduce their impact on the environment. The company is a division of Excellent Packaging (http://www.excellentpackaging.com), a wholesale distribution company that specializes in nature-based packaging for foodservice and other applications. Excellent Packaging brings decades of experience to research, source and deliver custom bio-based and traditional packaging and foodservice products that enable companies to integrate sustainable foodservice solutions into their business. Follow us on Facebook (BioMassPackaging) and Twitter (@BioMassPackage).
This press release is presented for your information only.
Full Disclosure Statement: The GREEN (LIVING) REVIEW received no compensation for any component of this article.
This article is for your information only and the GREEN (LIVING) REVIEW does not (necessarily) approve, endorse or recommend the product, service or company mentioned.