Kevin McGill's fantasy adventure book ascends nearly 100,000 feet above the earth to inspire young readers.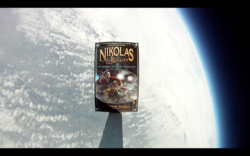 Dallas, TX : On April 20th, Kevin McGill inspired young readers around the world by launching his book, Nikolas and Company: The Merman and The Moon Forgotten., into space.
As part of his April 14th publication, Kevin built a high altitude balloon system equipped with an HD GoPro camera, and a mount for the book. He sent it nearly 100,000 feet up, which is considered near space. The near space area is between 65,000 and 350,000 feet.
Kevin explains his motivation for this launch:
"I wanted to show middle grade and teenage readers that a book can take them anywhere. In the near future, our fourteen-year-old hero, Nikolas, discovers that the moon is the cradle of all magical civilization. In order to travel there, Nikolas and company have to launch and ride a shuttle to Moon. A story can take us away from here, and to other fantastic worlds."
A video of the high altitude flight: http://youtu.be/qsza4Ahxfn4
Kevin McGill will release further books in the Nikolas & Company series throughout 2012. The first book, The Merman and the Moon Forgotten, will be commemorated with its launch into space attached to a weather balloon. The National Weather Service Office under NOAA (the National Oceanic and Atmospheric Administration) notes on its website: "The balloon flights last for around 2 hours, can drift as far as 125 miles away, and rise up to over 100,000 ft. (almost 20 miles) into the atmosphere."
Some media related information can be found here. http://kevinmcgill.wordpress.com/space-launch-media-page/ More available upon request.
McGill was inspired to write at a young age. A voracious reader, he was always on the hunt for dynamic storytelling. "I was looking for greater imagery and better storytelling," he explained. "The best books capture and drive a reader's imagination and their ability to visualize the story firsthand." With automaton-legged mermen and winged, fire-breathing lions, Nikolas & Company delivers fantastic settings, creatures, and possibilities. The cover design by graphic artist Carlyle McCullough is a great representation of the Nikolas & Company's world-building.
McGill co-founded a podcast called Guys Can Read (GCR) two years ago when he and former college roommate, Luke Navarro, were discussing books they loved. McGill said, "We wanted to talk about the books we liked, and encourage boys and men to read." The program is a weekly book discussion and podcast from a guy's perspective. The GCR website features recently read books and recommended books, as well as best-selling authors such as R. A. Salvatore and Daniel H. Wilson.
Kevin McGill grew up in Merced, California and graduated from Point Loma Nazarene University in 2001. He resides in Dallas, Texas with his wife.
Entire PDF of the book can be downloaded here
This press release is presented for your information only.
Full Disclosure Statement: The GREEN (LIVING) REVIEW received no compensation for any component of this article.
This article is for your information only and the GREEN (LIVING) REVIEW does not (necessarily) approve, endorse or recommend the product, service or company mentioned.