According to the Bathroom Manufacturers' Association, the average shower uses just over 60 litres of water. Compare this to the average bath using a minimum of 100 litres and it's clear, that if going green is an objective, then showering is the way forward.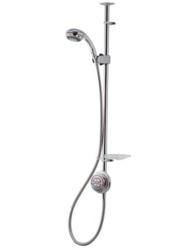 Whilst opting for a shower, rather than a bath, will certainly rack up 'green points', the type and technology of the shower is still critical, however. Shower manufacturers offer everything from low-flow shower heads and flow restrictors to showers that boast eco-settings, so it can be difficult to know where to start.
Digital showers such as those made by Gainsborough Showers feature an eco-setting on their processor boxes, which is activated by the plumber during installation. Typically, the setting will reduce water flow to around 8 litres per minute, although the final water-saving will of course depend upon the household plumbing system.
Digital showering technology is, unquestionably, one of the biggest advances in showering for many years. And, along with the eco-advantages, there are all sorts of user benefits, too. Controlled by remotely sited processor boxes (usually the size of a shoebox), rather than a conventional, mechanical shower valve, a digital shower tends to be much easier to install. For a start, there's no need for the valve to be built into or concealed within the bathroom wall – and so none of the associated mess, upheaval or damage to tiling and décor.
Using a digital shower such as Gainsborough's, is also a doddle. A one-touch, push button design makes switching the shower on and off unbelievably simple – and the 'cool touch' controller is safe for children and the elderly – and for those with soapy, slippery hands, too! Plus, there's an LED display on the shower's control that flashes whilst the water warms up; once the perfect temperature has been reached, the display turns to steady – and the user knows it's time to step in. No more chilly showers – and thanks, to the sophisticated, thermostatic functionality of the processor – no more unbalanced showers, either.
The only watch-point is the temptation that some digital showers offer to 'boost' water flow. It's a feature specifically designed to give digital showers, particularly those installed on gravity-fed plumbing systems a helping hand – but that integral pump – and the subsequent increase in litres per minute will make mincemeat of going green. So whilst it's good to know that a more powerful showering performance is available, using a digital shower's boost button might be something best kept for occasional indulgences.
Digital showers tick a lot of boxes – and the great news is that in addition to being easy to install, compatible with virtually all types of home plumbing systems and very simple to use – they are also extremely affordable.
Gainsborough's Digital Showers are currently on offer – and start from just £399.00 inc VAT and FREE next day delivery for a digital shower that is suitable for combi boilers and high pressure plumbing systems. Previously starting at £499.00, this is a £100.00 saving that makes going green in the bathroom more accessible than ever. And of course, buying online, direct from the manufacturer has its obvious bonuses – not least that there's no middle man involved and, should there be any aftersales concerns – a full, technical help service is available.
If a digital shower isn't an option, but being green and saving water is still a concern, how about an electric shower? Electric showering technology has never been better, safer or more affordable. And the great news is that because an electric shower doesn't place any demand on stored hot water, there are energy savings to be had, too, providing the length of shower is kept within a reasonable time. In fact, an electric shower such as Gainsborough's best-selling Stanza 8.5kW electric shower will heat hot water as it is needed – so it's entirely up to you how long you shower for and how much water you use in the process.
Costing £112.00 inc VAT and with FREE next day delivery thrown in, Gainsborough's Stanza electric shower proves that environmentally-friendly showering doesn't need to cost a fortune. It's also relatively easy to install – especially if it's a replacement for an older electric shower. And if an alternative colour, finish or power unit is required, there are plenty of other Gainsborough electric showers that are likely to suit. At £79.99 and £99.99, Gainsborough's 9.5kW SE and CSE electric showers, which are available in white and matt chrome finishes, are worth checking out.
Meanwhile, at 10.5kW, Gainsborough's stylish SE and CSE showers – priced at £91.99 and £101.99 respectively – will ensure water is heated in a jiffy and of course, those hard-to-beat online price tags still include FREE next day delivery and all the reassurance of a UK manufacturer's technical aftersales support.
This press release is presented for your information only.
Full Disclosure Statement: The GREEN (LIVING) REVIEW received no compensation for any component of this article.
This article is for your information only and the GREEN (LIVING) REVIEW does not (necessarily) approve, endorse or recommend the product, service or company mentioned.