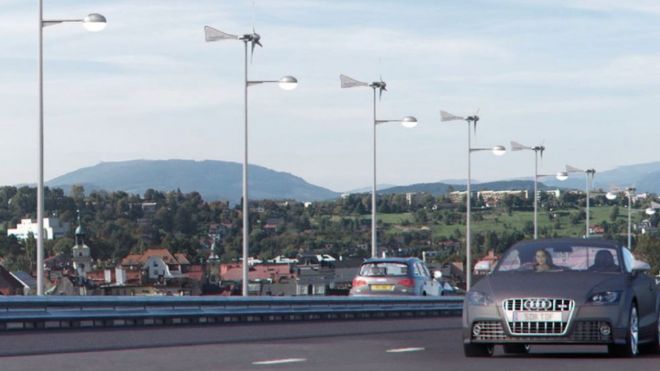 An IT company has joined forces with a green technology firm to develop wind turbines which attach to lamp-posts.
The NVT Group's partnership with Own Energy Solutions is set to create 25 jobs over the next 12 months which it hopes will rise to about 300 within three years.
The scheme harvests wind using a small wind turbine and inverter system.
As a result, metered, clean energy could be fed directly into the National Grid.
The company said that as a result, each suitable lamp-post conversion would save half a ton of carbon being released into the atmosphere.
As part of the deal, which is worth about £3.5m over the next 15 years, Own Energy is relocating from Glasgow to NVT's headquarters in Bellshill, North Lanarkshire.
Stephen Park Brown, managing director of NVT Group, said: "We have a great record of working with winning teams and this new venture has every prospect of eclipsing our recent commissions. We believe that Own Energy can become a significant player in the renewables market both in the UK and beyond."
'Huge export potential'
David Gordon, chief executive of Own Energy, said: "We chose to partner with NVT Group based on its extraordinary performance in recent years, particularly in the delivery of the technology for world-class sporting events such as the Commonwealth Games in Glasgow - which of course was widely regarded as the most successful in history - and The Ryder Cup.
Read more here.