This ground-breaking new report shows that renewable energy is the key to reducing carbon emissions from the UK power sector in a way that is stable, secure and affordable.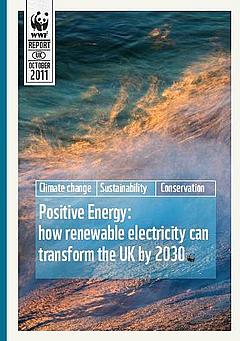 The report shows that it is perfectly feasible for renewables to deliver at least 60% of the UK's electricity demand by 2030, enabling us to reduce emissions without resorting to new nuclear power. By reducing our demand for energy we can reduce the costs of new low carbon generation capacity by around £40 billion by 2030, making it easier and cheaper to hit our climate targets.
Positive Energy has received support from a wide range of businesses, individuals and organisations, welcoming the contribution of the report to the energy debate. You can read what these organisations have to say here.
The report builds on our global vision of a world powered entirely by renewables, as detailed in The Energy Report: 100% renewable energy by 2050.
Positive Energy: how renewable electricity can transform the UK by 2030
Source: WWF
This press release is presented without editing for your information only.
Full Disclosure Statement: The GREEN (LIVING) REVIEW received no compensation for any component of this article.