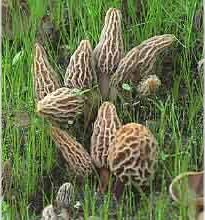 This spring, imagine finding Morel mushrooms in backyards. Gourmet Mushroom Products (GMHP) produces the Morel Habitat Kit™ - The first way people can grow morel mushrooms in their backyard. The Morel Mushroom is know by many names: Morchella, Merkel, Morrel, Sponge Mushroom, Dry Land Fish, Pine Cone Mushroom, Molly Moochers, Hickory Chicks… but no matter what you call them, each spring avid morel hunters struck by morel madness drive and hike for hours to fields and forests across the United States in hopes of finding the elusive morel mushroom.
Sebastopol, CA, April 2012 : Now, Gourmet Mushroom Products allows morel lover's to grow morel mushrooms in their backyard. Tired driving or hiking for hours and wading through poison oak or ticks searching for the highly elusive morel? Does a best friend refuse to tell you where their secret morel patches are? Raise morels in your backyard: "Just thought I'd post that we had our very first morel pop in our mushroom garden that I planted last spring using the Morel Habitat Kit from GMHP. This was planted in a tiny section of our back yard in the heart of the City of St. Louis. I followed the instructions contained in the kit to a 'T'..." -- The Great Morel Forum.
The Morel Habitat can supply an individual with pounds of morel mushrooms in a garden area as small as 4 - 5 sq. ft. GMHP developed The Morel Habitat Kit so everyone could enjoy growing their own morels, outdoors, in their own backyard and have a personal supply of fresh morel mushrooms to eat in the spring: Morchella esculenta the "good to eat", large, late season white morel.
Morel Habitats are perennial and may be started any time your soil is workable - Spring, Summer, Fall and even Winter (in areas with a mild climate). Morel Habitats may be started in any type of soil and have produced morel mushrooms in all areas of the United States that have a definite transition from winter to summer.
The Morel Habitat is ecologically sound and actually improves the environment by recycling biodegradable material instead of adding it to already overburdened land and sea sites. Everybody with a yard has most of the materials needed to create and maintain the Morel Habitat. Complete instructions for preparing and maintaining your Morel Habitat are included.
This press release is presented for your information only.
Full Disclosure Statement: The GREEN (LIVING) REVIEW received no compensation for any component of this article.
This article is for your information only and the GREEN (LIVING) REVIEW does not (necessarily) approve, endorse or recommend the product, service or company mentioned.