The same team that brought you Lunchskins - the original dishwasher-safe reusable sandwich bags - now introduces a new line available at select Target stores. These fun and affordable reusable baggies are dishwasher-safe and help families reduce daily waste and save money, too.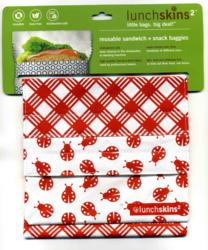 Potomac, MD, April 2012 : 3greenmoms, founders of Lunchskins - the award-winning reusable snack and sandwich bag brand – has launched Lunchskins2, a new, multipack Target line available starting this month at nearly 300 stores nationwide.
The multipack features one coordinating snack and sandwich bag, and is available in three fun patterns: Red Ladybug, Navy Dogs and Green Frogs. The two-bag sets are available in the lunch container and water bottle aisle, and retail for $10.99.
Developed by moms for moms, the stylish, reusable Lunchskins2 baggies provide an easy, affordable solution to single-use bags. By having these bags available at Target, the founders hope to reach as broad of a consumer group as possible to help reduce the immense plastic waste generated by school lunches. Lunchskins2 bags are made of food-safe, high-quality fabric used by pastry chefs. The result is a bag that's grease-and moisture-proof (ideal for messy sandwiches), while also dishwasher-safe and BPA-, lead- and phthalate-free.
"After learning that more than 20 million school lunch sandwich bags go into U.S. landfills every day, we set out on a simple mission: solve the plastic baggie blues by creating a fresh, modern, green alternative to the 40-year old plastic sandwich bag," said Kirsten Quigley and Cris Bourelly, co-founders of 3greenmoms. "Like most moms, we spend a lot of time at Target, so it's truly a dream come true to bring our new Lunchskins2 line to moms like us who love the red bullseye."
Since 2009, 3greenmoms' signature Lunchskins brand has received accolades from customers, retailers and press, including coverage in O Magazine, Real Simple, Marie Claire, Everyday Food, Parents, "The Early Show," and "The Martha Stewart Show," in addition to being a Parent Tested, Parent Approved award winner.
This press release is presented for your information only.
Full Disclosure Statement: The GREEN (LIVING) REVIEW received no compensation for any component of this article.
This article is for your information only and the GREEN (LIVING) REVIEW does not (necessarily) approve, endorse or recommend the product, service or company mentioned.