Carton Council presentation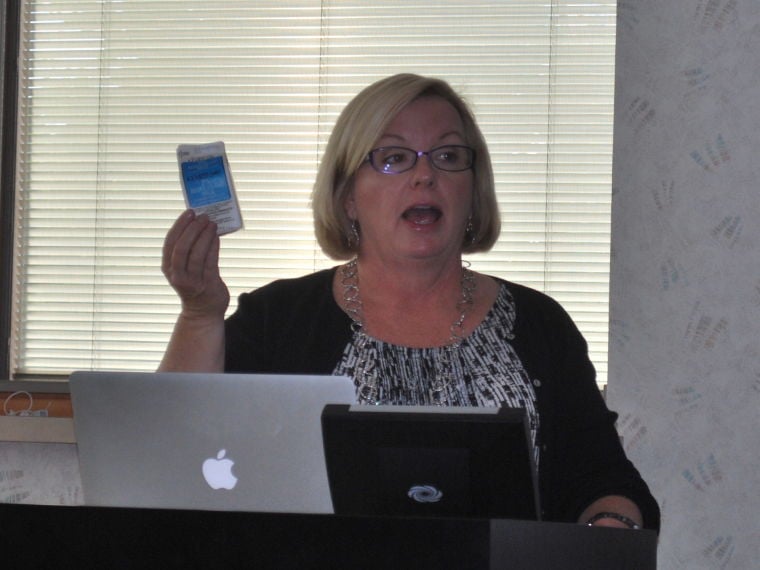 A special presentation on how schools can increase their efforts to recycle milk and juice cartons was heard by several area school district personnel Monday.
The presentation was delivered by Debbie Dodson, recycling coordinator for the Carton Council, which is a trade organization of carton manufacturers whose joint effort is to reduce landfill amounts and increase carton recycling programs both in schools and communities. The Carton Council provides assistance and grants to initiate or help existing programs.
She spoke at the University of Wisconsin-Extension office in Jefferson.
The first thing Dodson did was confirm that milk and juice cartons — the type most likely found in schools, but also elsewhere in communities and especially retail outlets selling soup or wine boxes — are, in fact, recyclable.
She said that a long time ago, the cartons were not recyclable because they used to be covered in wax. There is a wide public perception that the cartons still are wax-covered, she said, but they have not been for a very long time.
"Cartons have not had wax on them since John Kennedy was president," Dodson said. "They are coated with low-density polyethylene plastic, or LDPE. A table-top carton is only paper and a LDPE layer; the shelf-stable carton is paper, LDPE, and a very thin layer of aluminum. No wax."
The industry switch to LDPE was mainly due to the costs associated with the waxing process, which she called "an energy hog" because the wax always had to be maintained at a heated level for the coating process.
Dodson said that the average elementary school of 400 students can generate 2,000 pounds of cartons a year; at the elementary level, students generate about 20 cartons a month; at the middle school level about 12 per month; and in high school, about seven per month.
She noted that children often are more willing to recycle material than adults, in part, because students usually will follow directions, but adults often "over-think" the process.
"As students learn to line up to pick up their lunches, they learned how to line up to dismantle their lunches," Dodson said.
In short, the speaker said that recycling cartons is a process similar to all other recycling methods: they get collected, transferred to a sorting facility to be separated from cans and glass, and the cartons are baled and sent to a paper mill where they are pulped, and the remaining fibers then are used in other products such as tissues or paper towels, for example.
"The paper used in cartons is a long, white-colored fiber, and it's very valuable to paper mills," Dodson said. "It is really good for tissue or office paper, things you want to be bright. Cardboard and newsprint mills do not want this particular type of fiber, but higher value products like tissue and white paper manufacturers want these cartons."
She said the Carton Council first works with communities to make sure they have general recyclable programs, which most in Jefferson County already have in place.
"We started a campaign kick-off in 2009 and only 18 percent of the U.S. could recycle cartons at that point," Dodson noted. "By 2013 we had 48 percent, and that was exciting. The reason that this is important is that the Federal Trade Commission (FTC) has guidelines for recycle symbols. A package that can be recycled by at least 30 percent access of U.S. households — the symbol can be placed on packages."
She stated that, as of last week, the U.S. had hit the 50-percent mark, "which is a huge accomplishment in that just a few years ago we were at 18 percent." The 30-percent mark, she said, comes with a qualifier in that not every place may recycle an item; however, qualifiers are not needed if there is access of 60 percent.
The speaker said that Wisconsin is a special location for carton recycling.
"You have a paper mill in the Fox River (Valley) that takes cartons," Dodson said. "Wisconsin also is ahead of the average — you're at 53 percent. Outagamie County is the next one to come on at the end of the year."
The Carton Council works with Material Recovery Facilities, or MRFs, which are the companies that actually sort all the recyclable material — glass, paper, cans, cartons — into their individual categories. There are several MRFs located throughout Wisconsin.
"The council helps the MRFs in several ways, like, for example, helping them purchase an optical sorter which can help make sure the right material is sorted correctly," Dodson said. "Other times it is helping provide a bunker so that they can collect the material, or upgrade existing facilities."
She called Wisconsin a "closed-loop" process because of the close proximity of the paper mills.
Dodson said the most important aspect for school-based carton recycle programs is to make sure the cartons are as dry as possible; usually a simple rinse at a sink to remove any leftover amount of milk or juice is sufficient.
While there always will be trace amounts of moisture, the main point is that there are no half-filled or quarter-filled cartons placed into carton recycle bins.
"Wet, smelly cartons do not work, as we discovered in the 1990s," Dodson said. "We now have best management practices, which include dry cartons. We emphasize that students should finish drinking their milk or juice to promote the nutritious benefits primarily, but secondly it empties the carton better for recycling."
She then showed slides of how some schools across the nation have set up carton recycling areas in their cafeterias. In some cases, there simply are buckets placed by bins in which any leftover beverage may be dumped into, which then is poured out properly by custodial staff.
In another case, Dodson had a picture, as she said, of a "McGuyvered" system in which a custodian had set up a funnel and hose that led into a sink.
Dodson emphasized that there is no one-size-fits-all aspect for individual schools; in fact, the Carton Council works with schools to figure out what works best at their particular location.
She emphasized that while cartons might be collected in plastic trash bags, those bags are not part of the recycling process and should be used to transport cartons from a cafeteria to a proper bin.
"The plastic bags are detrimental to cartons because they seal-in the residential moisture," Dodson said, noting that the air drying empty cartons is best. "The moisture will permeate the fiber the manufacturers want, and destroy it, so when it gets to the paper mill, it will just get thrown away. We do not want that fiber to get saturated."
She stressed that the cartons should not be crushed — like aluminum cans often are — because that also traps harmful moisture. The crushed cartons also are harder for those optical sorters to identify, thus making the MRF sorting process slower.
Dodson said that cartons are a less expensive container than plastic, noting that paper cartons are often six- to 12-cents cheaper than plastic per unit. She said that becomes a factor when schools set their lunch prices.
One of the school staff in attendance was Melissa Perschke, of St. John's Lutheran School in Jefferson. She said that her school already has a carton recycle program.
"We've had it in place for a couple of years, I believe," Perschke said.
Persche, who describes herself as the school's "lunch lady," said that if there is any beverage left in a milk carton, the students simply place it on the cart or shelf from which they picked up the drink. Cafeteria staff then dump the liquid down the sink before placing the carton in a bin.
Dodson said that the increase in carton recycle programs is directly related to the Carton Council's efforts to promote those programs.
"All the manufacturers pulled together their resources to make the investments we needed in cities, recyclers and haulers around the country," she said. "Without that investment, we would not have seen the growth that we have seen.
"Our goal, of course, is to hit 60 percent so that all carton customers can put the recycling logo on their package so that more U.S. households have access to recycling," Dodson concluded. "The packages have that valuable white fiber, and we'd like that back."
For more information, visit the Carton Council website at http://www.recyclecartons.com.