Fernando Funes Monzote's theories of 'agroecology' bear fruit as he aims to inspire others to make the most of their land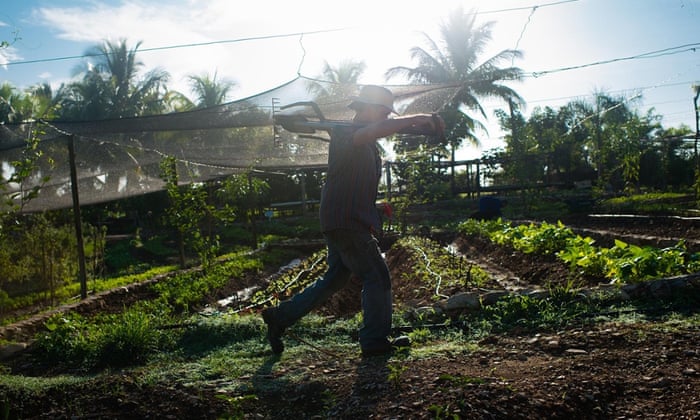 Like all homestead stories, Fernando Funes Monzote's starts with an epic battle against harsh elements and long odds. Funes, a university-trained agronomist, settled on a badly eroded, brushy hillside outside Havana four years ago and began digging a well into the rocky soil. The other farmers nearby thought he was crazy, or worse – a dilettante with a fancy PhD whose talk of "agroecology" would soon crash into the realities of Cuban farming.
Funes had no drill, so he and a helper had to break through layers of rock with picks and hand tools. Seven months later and 15 metres down, they struck a gushing spring of cool, clear water. "To me, it was a metaphor for agroecology," said Funes, 44, referring to the environmentally minded farm management techniques he studied here and in the Netherlands. "A lot of hard work by hand, and persistence, but a result that is worth the effort."
Today Funes is one of the most sought-after figures in Cuban culinary circles. Finca Marta, the eight-hectare farm he named in honour of his late mother, supplies organic produce to many of Havana's top-rated "paladares", the privately owned restaurants that are transforming the island's reputation for uninspired dining. Funes grows more than 60 varieties of vegetables, fruits and herbs in carefully terraced planting beds designed to conserve water. He's planted woody shrubs to divide his cattle pastures with "living fences" that also provide habitat for birds. His beehives yielded 1.5 tonnes of honey last year. The farm and its irrigation systems run almost entirely on solar power, and Funes operates a "biodigester" that captures methane from manure and pipes it right to the kitchen stove where it burns clean and blue.
Read more here.