Eco-Friendly Device Quietly And Quickly Removes Snow Without The Emissions, Noise and Strain
New Canaan, CT. : Structured Solutions II announced the launch of their newly-designed wheeled snow shovel this fall. The all new Folding Frame Sno Wovel® debuts in a new category of hybrid tools, combining safety for the user, protection of the environment and high-performance.  The Sno Wovel is the only human-powered snow removal device performing equal to or better than a snow blower.  No fuel, fumes and deafening noise to harm the environment or the operator.  The Sno Wovel's zero-carbon footprint and maintenance-free design makes it a formidable competitor to noisy combustion engine snow blowers.
Safe and Easy on the Body:
Shoveling and snow blower Injuries result in more than 100,000 serious emergency room visits annually in North America.  Cumulative injuries affect millions, resulting in lost time and productivity for recovery - all of which are now preventable while greatly improving performance. The University of Massachusetts, one of the top U.S. ergonomic research centers, has released the results of an independent study verifying that use of the patented Sno Wovel wheel-based shovel results in a 3-4 times reduction in lower back stress and cardio exertion.  The innovative wheeled design allows for effortless snow clearing on all types of surfaces while avoiding twisting, bending and post snowstorm muscle aches.
Fast and Free to Operate:
The Sno Wovel can outperform snow blowers and is 3 times faster than shoveling, in all snow conditions, from slush to over two feet of snow and is designed especially for heavy snow.  No special skill is required for commercial or residential use.  Anyone can use the wheeled shovel and it is fully adjustable for body type and size. The folding frame model quickly folds down for easy and portable storage.  Unique accessories include Gravel Wheels, a Chipper Plate for ice and packed snow, and an advanced composite Snap-On Wear Strip to extend shovel life.
The eco friendly Sno Wovel saves time, money, and gas - as well as the pain, strain and injuries so common with conventional shoveling.  Maintenance-free, the SnoWovel costs far less than a combustion engine snow blower and can hang flat on the wall like a shovel.  The Sno Wovel, priced at $119.95 msrp can be purchased online at www.SnoWovel.com and at specialty retailers throughout the USA and Europe.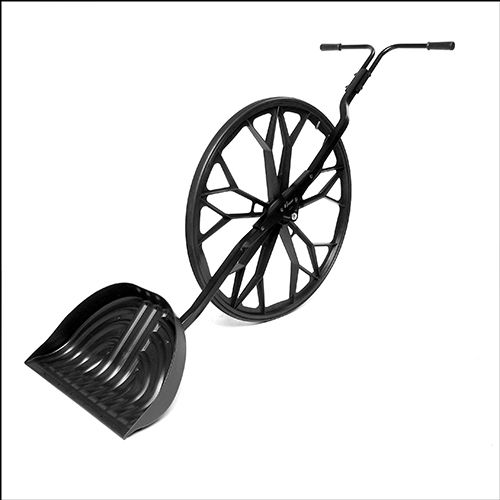 This press release is presented without editing for your information. The GREEN (LIVING) REVIEW does not recommend, approve or endorse the products and/or services offered, as we have no direct knowledge if them. You should use your own judgment and evaluate products and services carefully before deciding to purchase.